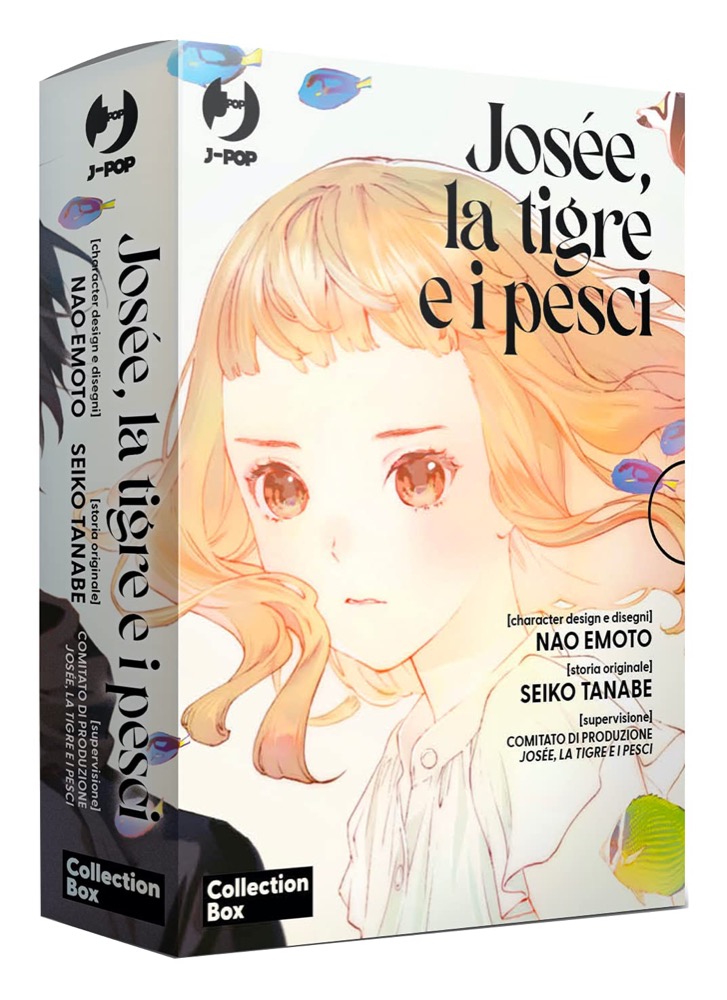 Josee la tigre e i pesci Collection Box
Novità Settembre 2021
Autore : Seiko Tanabe
Pubblicato da : J pop
Nr albi : 2 (Terminato)
Prezzo del box : 13,80 €
Prezzo dei singoli volumi : 6,90 € cad.
Dimensioni : 12 x 16,9 – stampa b\n
Sovraccoperta : Si
Cover con alette : No
Trama : Tsuneo, giovane studente universitario, incontra per caso Kimiko, una ragazza colpita da paralisi cerebrale che non può più muovere le gambe e non uscirebbe neppure di casa se non fosse per le cure di sua nonna. Con la sua caparbia dolcezza, Tsuneo cercherà pian piano di instaurare un rapporto con Kimiko, aiutandola a uscire dal guscio nel quale si è chiusa per colpa della disabilità.
Un racconto tenero e commovente considerato in Giappone come un vero e proprio classico e che ha ispirato due film live action, il più recente nel 2020, e un
imminente anime dello Studio Bones (My Hero Academia).
Proponiamo JOSEE, THE TIGER & THE FISH in due differenti versioni:
un volume in prosa che raccoglie il racconto
originale di Seiko Tanabe del 1985;
un elegante cofanetto da collezione con la miniserie completa dell'adattamento manga,
illustrato da Nao Emoto.
Un classico romantico e commevente in doppia versione : originale in prosa e adattamento manga!
Note : Una lettera ideale per chi ha amato Makoto Shinkai (Your Name, Weathering With You )
(Riassunto preso dal catalogo direct n° 85)
About Author